Pens win... Pens win... That game was a pleasure to watch... The Sharks goalie stood tall and put up a hell of a game, but luckily the pens were able to squeeze that one out. I am not saying we are going to start rolling now, but I saw something in that team today that I haven't seen all season. The jump they had in their step, the fun they were having on the bench... This is the type of moment they can hopefully ride into the playoffs. I still do not believe that this team is capable of winning the Cup, but I also predicted the Steelers would be lucky to be 8-8 this year. Let's keep ourselves in it and see what happens come trade deadline...
Marc Andre Fleury continues to play Dr. Jeckyl and Mr.Hyde with us. One game he looks completely useless, and games like tonight he looks like the elite goaltender that carried the pens to the Stanley Cup. I honestly think that he plays off the energy of the team, and when the team plays well, he plays well, and when the team plays like shit, he follows...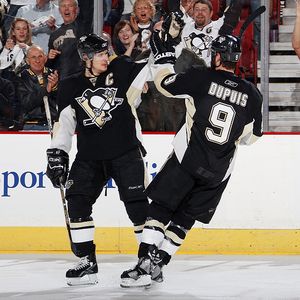 Before we continue celebrations, one thing needs to happen... CROSBY'S LINE IS A COMPLETE JOKE... Dupuis and Kennedy are both barely 3rd liners, let alone 1st liners... Crosby was on fire today and set Pigman up so many times it made me cry... Sadly, idk if we have the answer on this team right now... Satan and Staal looked really good today, maybe they both deserve a bump back up to the top 2 lines?
Go Janne...Go Pens...FUMT