Today the Pittsburgh Penguins - South fired Barry Melrose... Many people feel that the main reasons around this were because of their poor start, but my insider sources have informed me it was because of Poor suit performance. When Pittsburgh-South hired Barry Melrose they were hiring the guy with the awesome suits from ESPN:
Also he did wear a white suit quite often but i can't find a picture of it...
Anyways, when he became the pittsburgh-south coach...
Here he looks like
WTF is up with that flesh colored suit...
He is on his way to the NYC Stock Exchange for his first day as a trader:
This suit is just pitiful...
Boring...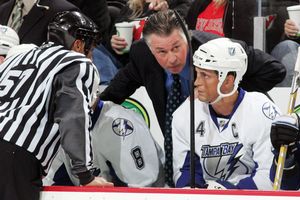 Here he has the fiery instinct that they wanted...but not the threads to back it up...the guy behind him is so disgusted he refuses to look at him...
Yeah so you get the point...anyways the current interim coach is Rick Tocchet, i expect this only to last a few weeks until they get a deal together with don cherry...